Since early April, students, staff and faculty at the Duke University School of Nursing have been battling in a 9,000 mile virtual race from Durham, North Carolina to Wuhan, China.
On the map tracing the race's progress, the competitors are in Canada nearing the Arctic Circle. But, while the exertion and competition are very real, nobody is missing classes, and racers sleep in their own beds every night.
The idea of a virtual race to Wuhan started with a group of three faculty members who get together every Tuesday night to run stairs or laps at the Duke University stadium.
"We kept wondering how we could get more people involved in exercising, but people were afraid to join us, that they'd hold us back or slow us down," says Remi Hueckel, Assistant Professor and Faculty Coordinator for the Pediatric and Neonatal Nurse Practitioner Majors at Duke's School of Nursing.
The Eureka moment came last winter when Hueckel participated in a virtual race sponsored by a local craft beer store, Beer Durham. The race converted Hueckel's daily running mileage into progress on a 217-mile route, advancing her avatar on an online Racery map of North Carolina breweries.
"I didn't know anyone in that race, but found it motivating," says Hueckel. "I thought how much more motivating would it be if I knew other people in the race."
So Hueckel and her running group pitched the idea of a school-wide virtual race at a faculty meeting. The idea was accepted and the race started on April 9.
Now the 93 faculty staff and students are racing from Duke's campus to the site of DUSON's partner school, the Wuhan University School of Public Health. Since April 9, the team members have collectively covered roughly 10,000 miles.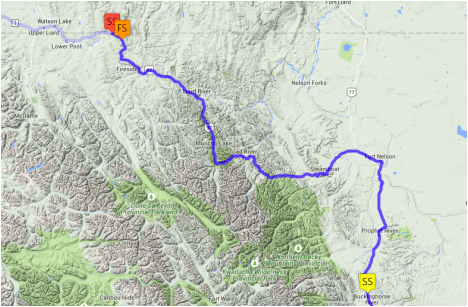 Crossing over into the Northwest Territories from British Columbia, the DUSON student team is ahead by just 9 miles in early June.
Competitors are divided up into three teams: staff, faculty and students. Each individual's daily exercise pushes the respective team avatar forward on the mapped route. All exercise – whether walking, Zumba, yoga or running – is counted as mileage, thanks to a conversion table created by the nurses.
Measuring miles-per-day rather than miles-per-hour has leveled the playing field, bringing many people who don't think of themselves as runners or athletes into the competition, says Hueckel.
Jane Halpin, Associate Director of Pre-Award Research Administration, is one of the non-athletes who has embraced the race.
Halpin says she was skeptical of runners before joining the race. "They look like they're in pain. I joked that I should have a 0.0 sticker on my car," says Halpin, who grew up in a family where the biggest exercise was curling a bag of potato chips.
"I felt that heart disease was in my genes and change was impossible," she says.
Weighing 246 pounds last year, Halpin resolved to lose weight so she could some day enjoy retirement with her husband. She joined Nutrisystems and started walking and shedding pounds.
When the Wuhan race started in April, the timing was perfect, says Halpin. "Focusing on weight loss for months on end gets to be old. You reach that danger point, you're getting tired of it. The weight loss has slowed from 2-3 pounds a week to losing 1 pound a week, and you start getting frustrated."
Spurred along by the race-to-Wuhan leaderboard, Halpin now weighs 182 pounds and is vying for first place with faculty member Ryan Shaw and student Kyle Manthei.
"This race has been something on a daily basis that keeps me focused on my goals. It gives me a little spark on the days when I might not be tempted to get out. I think: Ryan is right on my heels and I only need a couple of miles to stay ahead of him."
The race is having a profound physical and social impact at DUSON, says Hueckel. Racers are motivated by two daily e-mails: a morning note with standings after prior day's exercise, and an afternoon note asking "did you exercise today?"
"People say 'I want to get my miles in before the email,'" says Hueckel. Participants grab every opportunity to exercise, parking at the far end of a grocery store parking lot, walking to the local farmers' market, taking the stairs rather than the elevator.
"Everyone's busy, balancing teaching,clinical and other obligations, but this race really has been a motivator and really engaging. For example, after a night-shift, I'm tired, I think I'll just let the dogs out in the back yard. Now, I think about the race and don't want to be caught, so I can't sleep until I do laps around the neighborhood and log a couple of miles."
There's also been a strong social impact, boosting DUSON's sense of community. "When at work, we're all focused on class, individual projects, isolated in our offices," says Hueckel. "Now there's a strong sense of people watching each other," says Hueckel. "Someone in the hall will say, 'Did you see how much the Dean walked today?'"
Because she works with graduate students and faculty, Halpin doesn't know nursing student Kyle Manthei personally. That hasn't kept her from competing with him. "I don't know Kyle, but I have to say I've taunted Kyle," she says.
As of May 29, the student team is ahead by just 9 miles, with faculty and staff plotting to catch up. "We told graduating seniors there is no alumni category, so maybe we can catch up," says Hueckel.
The Tuesday night running group has quadrupled in size. And recently, Halpin and her walking companion registered to walk in a local 5k race, then switched their registration to a 10k.
Halpin says she was swept up in that race's energy. "I came home feeling good that I had been part of something bigger. I'm not a runner, but felt good to be there. I picked up on the energy in the place, the social aspect, people thrilled to see each other, happy to be together, happy to share the emotional energy."
@DukeU_NrsngSchl #DUSON strong finished the Not so Normal race this am!! pic.twitter.com/Hf4WDJUbgz

— Tracey Yap (@PressureUlcerRN) May 17, 2015
For Halpin, the Wuhan race flowed naturally out of the Duke Wellness Program's annual Get Moving Challenge in January, when more than 2400 employees in 250 teams of five people or more competed on number of steps taken, exercise minutes and/or percentage weight loss.

Duke Wellness, launched in 1990, is one of the country's oldest employee wellness programs. Serving 32,000 Duke staff, the program offers health risk assessments, diet advice and run/walk clubs, among many other things, according to Julie Joyner, Wellness Program Senior Manager.

All this competition is good news for Halpin, who used to suffer from numerous aches and pains and "popped Advil like it was Tic Tacs," she says. A few weeks back, her doctor took her off three medications thanks to all the exercise.

Halpin says she's just downloaded a couch-to-5k app and is thinking about running. "Who knows?" says the self-described former poster child for heart attack and stroke.

For her part, Hueckel watches the Race to Wuhan's individual rankings closely, guarding her position around #10. "I'll come back on Monday from a weekend 10-mile race and check the rankings, thinking, I must have moved up." Often another racer has logged similar mileage and the rankings don't budge.

Hueckel, who used to run six to eight half marathons a year, is now running one a month. Before the Wuhan race, she relied on registrations for upcoming races to keep her motivated. "Now I'm racing every day, so I'm always in shape for a half-marathon," Hueckel says.

There's just one problem. "We don't want the race to end," Hueckel says.

(Want to race your friends and colleagues every day for weeks across exotic geography without leaving town? Creating a race is just few clicks on this this form. And here's more coverage of the Wuhan race!)

* ?php comments_template( '', true ); ?*/ >