Racery's virtual race platform provides turnkey virtual races and fitness challenges to companies, nonprofits and groups.
Racery is designed to make launching a virtual race risk-free for sponsors. Our virtual races require no setup fee. And before committing to a race, decision makers can experience all Racery's features in a free test race.
We've been at it since 2014. While most virtual race companies make their money selling medals and tee shirts, we specialize in hosting rich social and motivational experiences. If you don't see a feature below, please ask—we've probably got it. 🙂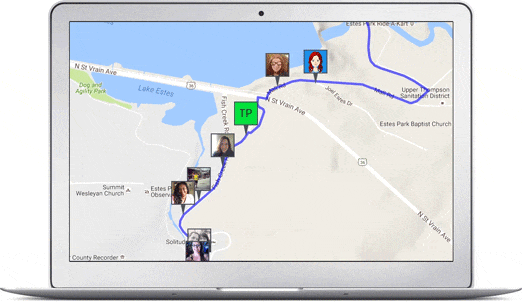 Core features
Fitness and motivation
Personal tracking: participants exercise anywhere and anytime, then see their fitness progress displayed on a route along with other racers' avatars
Bling: each racer receives a digital bib and finish placard personalized with their name and entry number, perfect to print or share online
Google Street Views: no matter where a racer exercises, they get a 360° view of their new position on the virtual route
Leader boards: all participants' relative positions update in real time on an individual leader board and (if applicable) a team leaderboard
Activity feed: everyone's exercise logs are displayed a reverse-chronological-order real-time stream
Socializing: racers can like or comment on each other's logs and interact in a message board
Inclusive activity option: depending on the sponsors' goals, a race can track a single activity (like running or swimming) or a more inclusive mix of 80 activities (from wheel chairing to yoga to gardening)
Motivational nudges: racers get commended for streaks and new personal record and are email nudges to exercise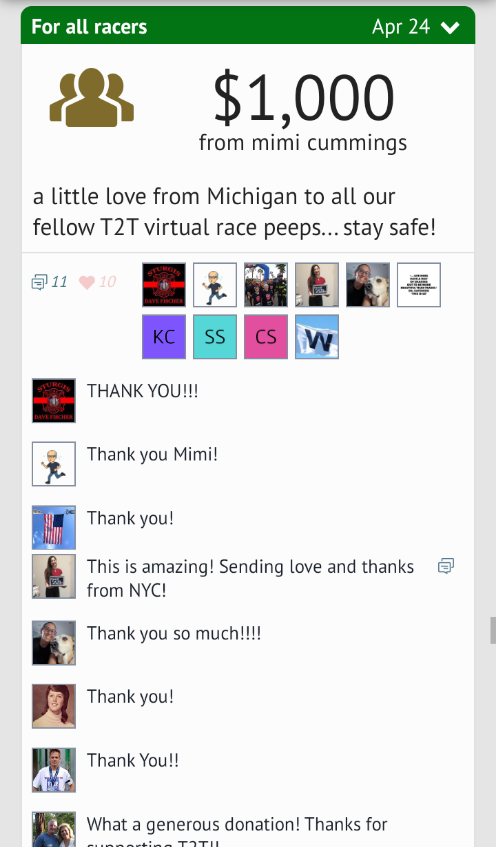 Donation in a
2020 race's activity feed.
There are no Racery fees on donations!
Racers can donate when registering
Racers can compete to raise money using P2P fundraising pages for individuals and (if applicable) teams
All results are displayed in leader boards for individuals (and if applicable) teams and groups
Every donation is featured in the race's activity feed along with everyone's exercise
Emails thank donors and notify the racer or team credited for a donation
Racers can comment on a donation in the race's activity fee (see image)
Advanced features
Using Racery's software, organizations can easily build and manage their own races, with reliable racer support provided by Racery. Large organizations prepaying racer entries can access additional branding, features, flexibility, and support.
$7,500+
coupon dashboard (unique coupons for different corporate sponsors)
pin drop dashboard (add and edit map pin drops⁠—title, text and image⁠—to highlight landmarks or premium partners)
Racery, not sponsor, builds the route
registration tiers (offer racers different entry packages or additional bling)
e-postcards (build and trigger emails containing e-postcards of landmarks)
send mileage-triggered emails (each racer or team gets an email on passing a defined mile marker)
editing copy or footers of action emails, which drive Racery functionality
corporate Slack integration
design services
$15,000+
free 50-person one-week warm up race (train and excite potential ambassadors for a large race)
private labeling (customize the map's palette and replace Racery's logo)
API access (pull data directly from Racery's database in real time)
embedding a race widget (add the race's map and leaderboards to your own site)
dedicated support (get a companyname@racery.com support address and expanded service hours)
custom racerbot (a client-themed chatbot comments on racers' activities and achievements)
Google Street View Easter eggs (racers can watch for branded billboards or puzzle clues along the route)
Fees for custom route races
Set up fee
Nada. $0. Yes, zero.
Company races (fee per racer) by duration
One week: $6
Two weeks: $9
One month: $15
Two months: $26
Three months: $37
Nonprofit races (fee per racer) by duration
One week: $6
Two weeks: $8
One month: $10
Beyond one month, fundraising returns diminish.
Virtual 5ks with GPS
One day, single log per racer: $3
One week, multiple logs per racer: $6
One month relay with teams, multiple logs per racer: $15
Logistics
Custom race durations are also possible
We recommend companies announce races at least two weeks before race start; charities should announce at least 4 weeks before start
Racery's per racer entry fee is paid by each participant upon registration—or registrations can be prepaid in bulk, minimum $750 non refundable
A sponsor prepaying >$2,500 in Racery entry fees can: a) add its logo to the digital bib, finish placards and about section b) select which action emails racers receive
A race organizer can add its own fee on top of Racery's fee, provided the organizer has a Stripe account connected to its race. (For example, in a charity's two week virtual race with a $20 registration fee, the charity receives $12 and Racery receives $8, both less credit card fees.)
Stripe charges 2.9% and 30 cents of every transaction. A nonprofit or company can create a Stripe account in less than 5 minutes here,
All races are governed by Racery's terms of use
$500 surcharge applies to races starting Friday, Saturday, or Sunday
Pre-built race packages
Looking to economize for a virtual race with your family, club or church? Don't miss Racery's pre-built packages—they're sometimes cheaper than races with custom routes or include extra e-postcards. Most of those races can be found here and here.
Next steps