For a nimble charity, a virtual race creates multiple touch points and levers for fundraising—with none of a road-race's hassles like renting porta potties, securing permits or risking a rain-out.
While many charities try to maximize race proceeds by charging high registration fee, we hope this post persuades you that a lower entry fee results in bigger fundraising receipts. Lower entry fees boosts the number of racers, which in turn boosts both p2p fundraising and sponsorship revenues. And more racers makes for a merrier race! (Remember: there's no Racery fee on donations.)
This post reviews five features of virtual race that are important for fundraisers—registration, p2p fundraising, visibility, corporate donations and sponsorships—and how they interact. (If you're new here, don't miss our advice on how to promote a virtual race or Racery's beautiful digital bling!) 
Registration
The most obvious time to raise money in a virtual race is during registration. So it's tempting to get greedy and overprice your race. The thinking goes: "Some half marathons cost $150… just for one morning! Our virtual marathon/ultra lasts two weeks and our cause is better. So we should be able to charge at least $50, right?"
Maybe. Sometimes. But usually, on average, no.
Don't give in to the temptation of overpricing your virtual race's registration fee!
First, potential racers who haven't yet experienced how much fun virtual racing is won't pay as much for a virtual event as for its physical predecessor, no matter how fancy the route or the digital bling.
Second, your virtual event has to compete with a potentially infinite supply of other virtual races. Demand for virtual races is very elastic. We've observed that virtual race directors raising prices by 40%—say from $25 to $35—can cut total entries in half. 
Funnily enough, the gross registration revenues from that price change almost work out at break even. But, sadly, half as many racers more than halves the value of the race experience for all participants. Why? Racing is more fun for everyone when more friends and colleagues are participating. And there's a second advantage to "under pricing" an entry fee—if racers think a race is good value, more racers will throw in an extra donation when registering.
There's one important exception to the observation that lower entry fees lead to greater total race proceeds—it's a mistake to price race entries at $0. First, free entry reduces a racer's psychic and financial investment in a race. Second, pulling out a credit card to enter a race—even if only to pay a $5 entry fee—increases the odds a racer will make a donation, which in turn boosts the racer's likelihood of recruiting other racers and donors. Third, a small registration fee reduces fly-by registrations from people who aren't serious about a cause. (Note that if your charity has special types of racers (clients or partners or group members), you can distribute free entry coupons to those racers using your race's coupon dashboard, which is available in premium races.)
Obviously, you should also consider the demographics of your target audience when setting registration fees. Investment bankers can tolerate (or even enjoy!) a $40 registration fee, while college students may be deterred by a $15 registration fee. 
P2P fundraising
The big opportunity for fund raising and list building comes after the registration process is complete and the race has started. Every racer  automatically gets their own p2p fundraising page.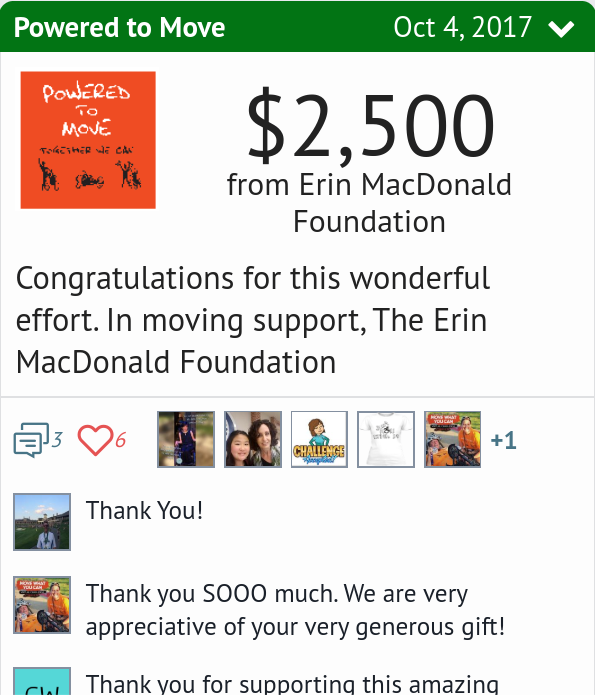 While common in many charity events, p2p fundraising is particularly important in virtual races. A virtual race—whether lasting one week or a month— giving lots of runway for racers to get emotionally invested in competing with each other… both in miles and money raised. When the chemistry clicks, giving ramps up in the last third of the race. Who will "win" the fundraising race and get an award for the biggest fundraising individual or team? This is what we saw in Powered to Move's virtual race to raise money for disabled athletes and Hogwarts Running Club's virtual race raising money for the Trevor Project.
Donors can decide whether to contribute in the name of an individual racer, a team or all racers. All racers and teams get an award at the end of the race based on their standings in the fundraising league tables, and these often get shared on social media. 
Visibility
Donations get lots of visibility in a Racery virtual race; the more racers, the more value there is to this visibility.
Each donation shows up in a live feed of miles logged and donations, where racers can comment on, or like the donation.
The racer who solicits a donation gets a notified that someone has given in their name. 
New donations show up at the top of the e-mail racers get every morning.
Racery's functionality lets individuals or teams to get credit for donations made in their name—just as there are individual and team leader boards for miles, Racery provides individual and team leader boards for money raised.
Donors also have an option of giving in the name ALL racers—triggering an email to all racers noting the donation— which is especially good for a donor that wants to make a big splash.
Corporate donations
Corporate donations can also play a important role in maximizing money raised by a charity's virtual race. If your charity receives a check for $5,000 while the race is going on, you can submit it to the race. All racers will be notified about the donation, and the donation will also show up in both the donations leader board and in the real-time activity feed. The corporate donor wins because it gets lots of exposure supporting the cause—you win because other donors may be similarly inspired.
Sponsorships
Races with participants who are important in a particular economic field can attract extra sponsors, further padding the fundraising hawl.
Opportunities for giving sponsors publicity in the race include the about section, announcement emails and (in our premium races) pin drops, postcards, mileage triggered emails and email footers.  Check out the sponsorships (below) for this 700-person race. The race, with an entry fee of $20 per racer, has raised more then $180 per racer. 

Conclusion
Price your race to maximize participation. If the race is purely digital, we recommend keeping entry fees low — $10 or $15 may seem outrageously cheap, but you'll end up with far more racers and far bigger donations.
(If you DO want to include a "medal package" that costs $40 or $50, that's fine, but still be sure to have a "cyber-only package" that's very affordable.)