For Peter Ripmaster, the decision to use Racery was easy.
Ripmaster, the owner of the Black Mountain Running Company, was burning out trying to juggle selling shoes with hosting community 5ks and running workshops, spending quality time with his wife and two young daughters, and training to pull a sled along the ultra-intense 1000-mile Iditarod through Alaska's wilderness.
"It does not get any more Ma and Pa than my shop," says Ripmaster, whose store is steps from the center of bucolic Black Mountain, North Carolina.
Up against Walmart-esque chains of running stores, Ripmaster was excited that Racery empowered his store to sponsor a race for customers without any extra work on his part beyond sending some e-mails, posting to Facebook and talking up the race with customers.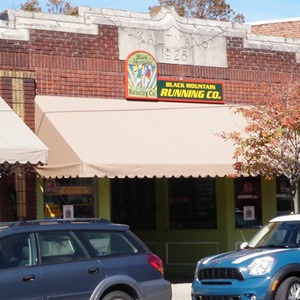 Local runners took care of the rest, spreading the word to pull in their friends and enlarge BMRC's virtual footprint.

"The buzz it brings is brilliant," says Ripmaster. "Everything has our name on it, the map, the e-mails, the monthly mileage leaderboards, the finish reports."

The first race was the length of the Blue Ridge Parkway, 466 miles, with many racers submitting miles daily and commenting on each other's runs.

After that race finished, Ripmaster launched a race the virtual length of the Iditarod which he is personally planning to cover in 2016 on foot.

A little more than seven weeks after the latest BMRC race started, 44 racers have logged roughly 10,500 miles cumulatively on the virtual route from Anchorage to Nome, Alaska.

Rhonda Devan buys all her gear from BMRC and joined both races.

"Every time I log mileage, I think of Peter and his leadership in the local running community, focusing on helping people make fitness a part of their lives," says Devan.

Ripmaster is a running celebrity. And because the second race is on a route in Alaska that Ripmaster is personally going to traverse pulling a 60-pound sled, Devan thinks often about how Ripmaster will be "doing this route in days and it's taking us months."

Participants have found that racing on a virtual trail is inspiring. "A couple of people have said 'I've never run this much in my life,'" says Ripmaster.

Local runner Ed McDaniel feels that way. "I'm a middle of the pack runner, and I can't really compete with speed. Actually, I'm surprised, but Racery has brought out more competitiveness in me than I expected."

"Because it's a long-term race and I'm consistent with my running, I've found that I can work my way up gradually. I look at where the next person is, and think 'if I run a little more, I can catch this person,'" says McDaniel.

McDaniel finds himself studying other runners' routines. "There's some strategy, keeping an eye on what others are doing, and looking at how often they're running, and I think 'if I do a little more, I'll catch them,'" he says.

Devan too has found her running has ratcheted up a notch. She used to only run with a group, but now if Devan can't join the group run, she runs alone to keep pace.

"Certain people you stay with the whole race. I don't even know them, but they're motivating me. If the person behind me runs ten miles, that means I need to run to stay ahead of her," Devan says.

BMRC's first race started in January, traditionally a slow season for runners in the snowy mountains of Western North Carolina. "If I had not joined this race, I would not have gotten out the door as much, and my mileage definitely would not have been as high," says McDaniel.

McDaniel watches a Garmin graph of the mileage he runs. "For this year the slope of the graph for cumulative running per year is quite a bit steeper than in previous years, and I attribute that to running this race."

Having seen Racery's impact on his customers, Ripmaster is thinking about how to build Racery into his ultra training classes, motivational speaking engagements and the fitness consulting he does for corporate clients across the South-East.

Devan has just one suggestion for Ripmaster. "We need to have a party to meet all these people we've been racing against."

[Invite your friends to join a real race on a virtual route with Racery.]

* ?php comments_template( '', true ); ?*/ >