Looking back, Ed McDaniel was in for a bunch of surprises when he signed up to race 466 miles on the Blue Ridge Parkway in January.

First, McDaniel didn't really understand what kind of race he'd entered.
McDaniel is a psychologist at the Black Mountain Neuro-Medical Treatment Center, where he'd previously participated in an all-employee effort to pool running and walking miles to virtually traverse the 2,200 mile Appalachian Trail.
But this January's race, sponsored by the Black Mountain Running Company, was an individual competition among ~50 runners to traverse the North Carolina portion of the AT. It was each runner for him or herself… for 466 miles.
Which led to surprise #2. McDaniel has spent most of his running life in the middle of the pack and didn't consider himself to be competitive. Until this race. "Actually, I'm surprised, but Racery has brought out more competitiveness than I expected," says McDaniel.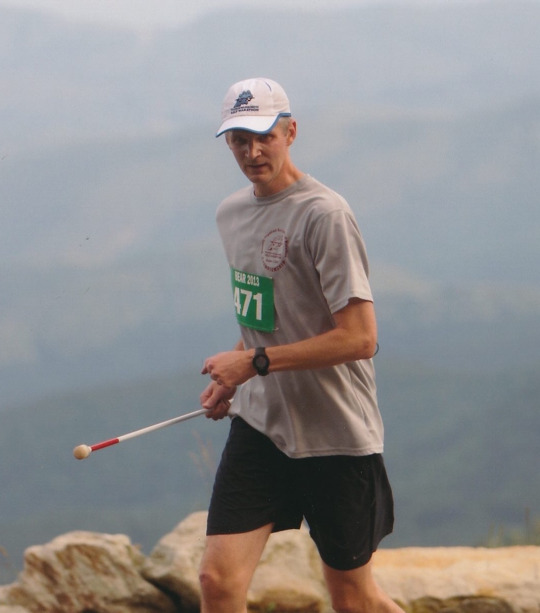 McDaniel in 2013 nearing the top of The Bear, a 5-mile race from Linville, NC to the top of Grandfather Mountain.
"Because it's a long term race and I'm consistent with my running, I've found that I can work my way up gradually. I look at where the next person is, and think 'if I run a little more, I can catch this person,'" says McDaniel.
The third surprise came when McDaniel launched his own race in May after finishing BMRC's race.
The roster of participants for the new race resembles a tomato vine, with an extended branching of relationships between racers, including children, parents, spouses, co-workers, mothers-in-law.
While McDaniel was aiming for 25 starters, 28 people signed up. In total, two-thirds of the people in the race are connected to at least one other person, says McDaniel, who is himself running with his wife and adult son.
"People come out of the woodwork when it's shared by someone they know. We've been going for almost a month and had someone new join last week and someone the week before," says McDaniel. (Late entries can enter their mileage back the race's start-date.)
Which leads to a fourth surprise. McDaniel finds himself racing one of his old high school buddies, who he hasn't run into (or with) in 30 years.
The friend saw the race announcement on McDaniels' Facebook page and signed up. Then the friend's wife joined too. Now McDaniel keeps track of the friend's mileage on a daily basis. "I can see clearly that since he joined, he's running more – running lots and lots miles," says McDaniel.
McDaniel, who is legally blind, has previously run a marathon to raise money for the Foundation Fighting Blindness. He's considering using his next Racery race to raise money again, either by charging a $20 entry fee or encouraging racers to solicit per-mile donations from friends and colleagues.
Now that McDaniel has become accustomed to racing on virtual routes, the final surprise is his difficulty in explaining Racery to people who have conventional race formats hard-wired into their heads.
McDaniel knows that racing on a virtual route as easy as sending one e-mail daily with new mileage. So he worked hard to distill the experience and posted the following on Facebook several times to build a critical mass for his race:
Who wants to join me for a 277-mile virtual race of the North Carolina section of the Appalachian Trail? It's fun, motivating, simple, and free!

Here's how it works.

Sign up by submitting your name and email.

The race will start the day after at least 25 people have signed up.
Run anywhere.
You track your miles by a gps watch, app, or any other means.
Reply to a daily email with your mileage.
Your place on a map of the AT is plotted instantly.
Your total mileage, runs/week, and miles/week will be tracked.

Please sign up and get your friends to sign up.
It's always more fun when you're running with friends!
When he doesn't want to do all that explaining, McDaniel has a shorter, simpler version ready to deliver in person. "I just tell them that it's a lot of fun and really motivating," says McDaniel.

[Invite your friends to join a real race on a virtual route with Racery.]

* ?php comments_template( '', true ); ?*/ >