Acadia to Katahdin: Sea to Summit Virtual Edition

Runners
(82)
1.

Ghost

Finished

2.

JohnT

Finished

3.

MattK

Finished

4.

KPS

Finished

5.

KDW

Finished

6.

Coastwalker

Finished

7.

Keefa

Finished

8.

NancyBurns

Finished

9.

CaptDave

Finished

10.

Lenny1423

Finished

11.

Christa

Finished

12.

TomZot

Finished

13.

JillMarie63

Finished

14.

Swollenknee

Finished

15.

Dear

Finished

16.

Fossil

Finished

17.

Tootsiepopp27

Finished

18.

SarahBG

Finished

19.

DesertRat

Finished

20.

Shellperry

Finished

21.

Turtlerunner5

Finished

22.

LibertyPenguin

Finished

23.

BarHarborBirdie

Finished

24.

CDubs

Finished

25.

JakeD

Finished

26.

JABandMom

Finished

27.

LizInTheWoods

Finished

28.

bgizzi

Finished

29.

ZombieChop

Finished

30.

LRM

Finished

31.

Bayna6

Finished

32.

AOMM

Finished

33.

Bruczilla

Finished

34.

jjnodice

Finished

35.

sstpierre

Finished

36.

sarahJSG

Finished

37.

4000footer

Finished

38.

HPLPrez

Finished

39.

Beachbug

Finished

40.

FL2ME

Finished

41.

CindyLouWho

Finished

42.

wanderingmaine

Finished

43.

FLMainiac84

Finished

44.

BigRed68

Finished

45.

MelC

Finished

46.

MaryTalalay

Finished

47.

Mamaof7Dogs

Finished

48.

mak321

Finished

49.

JenJenJamboree

Finished

50.

Run100

Finished

51.

Lishie

Finished

52.

HeleneL

Finished

53.

GeoJill

Finished

54.

EdenSoleil

Finished

55.

jennsjourney

Finished

56.

Angelion

Finished

57.

bbarr

Finished

58.

MoGo4Acadia

Finished

59.

GO4Acadia

Finished

60.

KDDID

Finished

61.

MichelleS

Finished

62.

mdijim

Finished

63.

MainegirlinAZ

Finished

64.

AmZ

320.4 miles

65.

Lkap

254.6 miles

66.

SongfromSilence

225.8 miles

67.

2mal

212.5 miles

68.

JillinTX

211.9 miles

69.

AMM

164.9 miles

70.

BenTreat

152.8 miles

71.

Nugget

117.8 miles

72.

Crabstah

98.7 miles

73.

Sommerfeld

79.7 miles

74.

Joelle

59.3 miles

75.

Lanikai

42.2 miles

76.

Kkuni

34.8 miles

77.

GypsyRose

33.0 miles

78.

Brianne

16.7 miles

79.

RaceryLesley

1.0 miles

80.

lulee

0 miles

81.

Oz

0 miles

82.

Aminer

0 miles

Second Lap

1.

JohnT

2394.0 miles

2.

KPS

1976.4 miles

3.

Coastwalker

1932.9 miles

4.

KDW

1904.5 miles

5.

JillMarie63

1676.2 miles

6.

CaptDave

1512.9 miles

7.

TomZot

1440.5 miles

8.

Christa

1413.8 miles

9.

Angelion

1361.5 miles

10.

Shellperry

1175.8 miles

11.

bgizzi

1162.2 miles

12.

ZombieChop

1139.9 miles

13.

Dear

1126.6 miles

14.

LizInTheWoods

1101.9 miles

15.

Ghost

1014.4 miles

16.

LibertyPenguin

942.8 miles

17.

4000footer

925.9 miles

18.

Bruczilla

899.0 miles

19.

AOMM

809.2 miles

20.

FL2ME

790.3 miles

21.

Swollenknee

754.8 miles

22.

JABandMom

682.9 miles

23.

bbarr

633.9 miles

24.

jjnodice

601.0 miles

25.

LRM

590.8 miles

26.

Run100

564.5 miles

27.

SarahBG

508.7 miles

28.

Lenny1423

470.2 miles

29.

Mamaof7Dogs

464.1 miles

30.

sarahJSG

434.1 miles

31.

MaryTalalay

428.0 miles

32.

mak321

426.6 miles

33.

jennsjourney

426.2 miles

34.

HeleneL

389.8 miles

35.

CindyLouWho

377.6 miles

36.

wanderingmaine

367.5 miles

37.

MattK

365.8 miles

38.

sstpierre

363.8 miles

39.

Keefa

356.1 miles

40.

FLMainiac84

351.9 miles

41.

MelC

351.0 miles

42.

NancyBurns

347.9 miles

43.

Bayna6

347.1 miles

44.

Lishie

342.2 miles

45.

Beachbug

341.6 miles

46.

EdenSoleil

340.7 miles

47.

MoGo4Acadia

340.0 miles

48.

MichelleS

339.3 miles
About + Join
From: Cadillac Mountain
To: Mount Katahdin
Start date: July 20, 2018
End date: August 1, 2019
0:00 EST
23:59 EST
Route distance: 337.8 miles
Total logged: 46,127.3 miles
Help raise funds for Acadia National Park and Millinocket, the gateway to Baxter State Park and Katahdin Woods and Waters National Monument, by participating in the 2018 virtual edition of the Maine Sea to Summit series. Earn a medal (or two) at the same time!
Check out the Race Medals!
<center>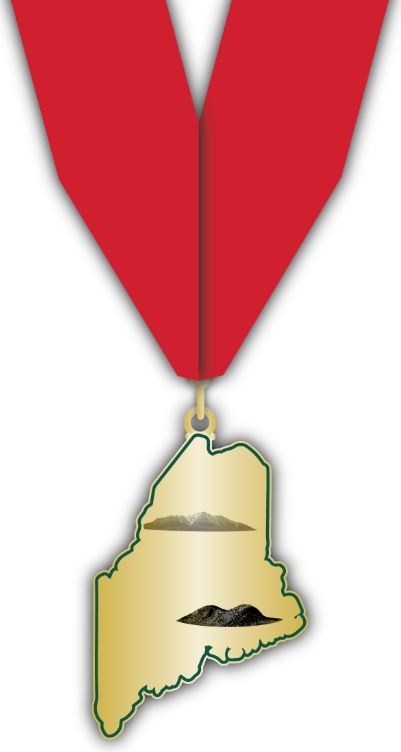 </center>
<center>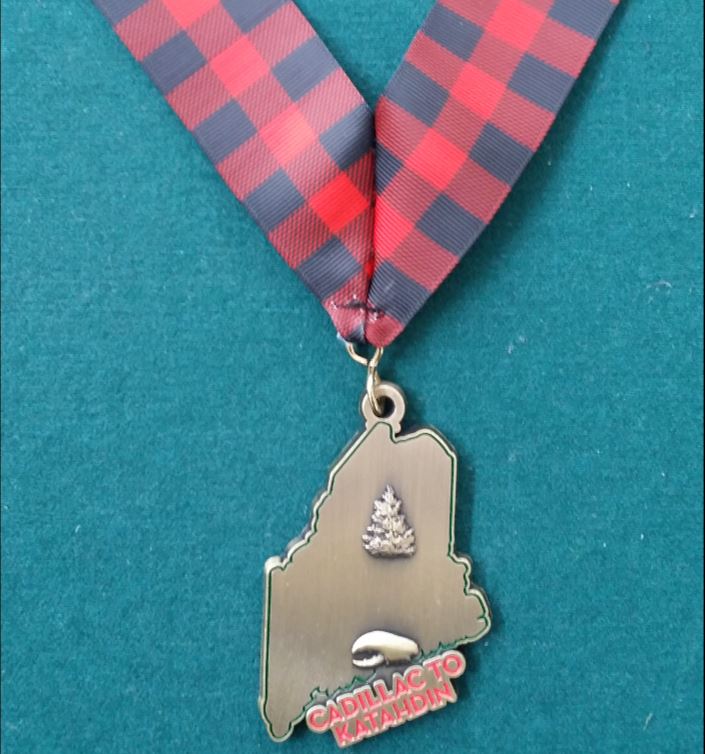 </center>
Start on top of Cadillac in Acadia, the highest point on the US Atlantic coast, and the first place in the US to see the sunrise between October 7 and March 6.
Then run the Mount Desert Island Marathon and Half Marathon route, and head north for the Millinocket Marathon and Half route.
Finish atop Katahdin, the highest peak in Maine and the northern terminus of the Appalachian Trail.
Wherever you are in the world, you can participate virtually by running or walking and logging your miles. Watch your avatar move along on a map from Cadillac to Katahdin, including the routes of the MDI and Millinocket Marathon and Half Marathon, the 26 peaks of Acadia and other special sites along the way.
You have until December 8 to complete the route. To ensure you cross the finish line and to take into account any mileage rounding issues, be sure to log a few extra tenths of a mile. Registration ends December 8 and your special finisher's medal(s) will be mailed within 3-4 weeks after the end of the race, if not sooner.
Special pricing for registrants in the real-life 2018 MDI and Millinocket Marathon and Half Marathon. We will cross reference the real-life entrants' list and if runners don't appear then the virtual fee will be forfeited. Option to add on a special buffalo-plaid beribboned medal from the previous version of the race, when it was called the Cadillac to Katahdin Virtual Run.
At least 5% of gross proceeds from the race go to help support Acadia National Park via the nonprofit Friends of Acadia, and Millinocket via the nonprofit Our Katahdin and Millinocket Memorial Library. Brought to you by
acadiaonmymind.com
and
runmdi.org
.
We've got racers all over the globe! To keep everyone on the same page, we've come up with some handy guidelines:
&#8226 We rely on the honor system... you don't have to use a device to prove your miles -- a good map suffices.


&#8226 Please only backdate mileage to July 20


&#8226 No step counting, please use intentional miles.


&#8226 Only walking or running miles please! (NOTE: miles on a racer's personal log are for all races they are in, over all sports)


&#8226 Please attribute your mileage to the appropriate day -- don't combine mileage from multiple days.


&#8226 Miles submitted after the race ends will not count toward race leaderboards.


Questions?
team@racery.com
✖
Latest:
Latest:
No mileage submitted yet.