Wish you could do a cool wellness challenge with your colleagues?
Here are four reasons your colleagues will thank you (merci beaucoup!) for inviting the whole office to Paris, France… on Racery's virtual wellness challenge that is. Share this blog post with the wellness point-person in your HR department tout suite!
1) Cool sights! Each person's goal is to log each day's miles to see how far she/he can get in a month. With each log, Racery will instantly provide a 360-degree street view corresponding to the participant's new virtual location. Our 65-mile virtual tour of Paris and environs passes through many fascinating, beautiful views that reward participants for their exercise. On top of lots of gritty cafes, bucolic squares and even an occasional wheat field, highlights include:
Arc de Triomphe (#1 below)
Champs-Élysées
La Comédie Française
Opéra Bastille
Versailles Palace (#2 below)
Château de Saint-Germain-en-Laye (#3 below)
Pont de Grenelle
Eiffel Tower (#4 below)
2) Social support! Each time a staffer logs a run or walk, the mileage appears in the real-time activity feed displaying everyone's activities, as well as everyone's comments and photos. (To boost health awareness, we suggest staffers log only intentional miles, not automated step counting.)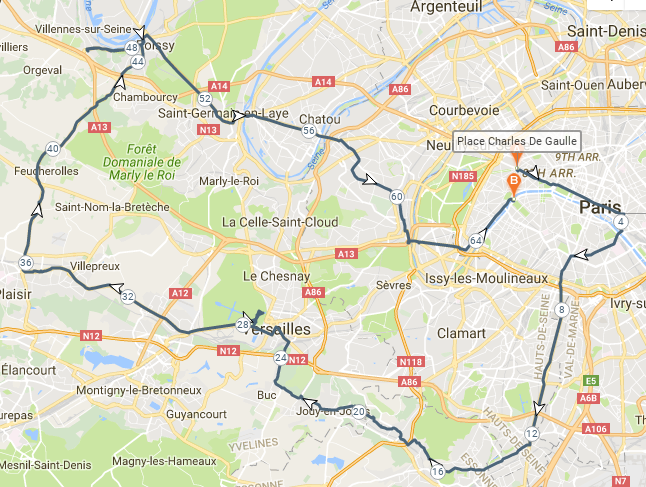 3) Lots of feedback! Our software automatically calculates achievements — for example, longest personal distances and streaks, as well as group achievements, with each new mileage submission. Colleagues get to cheer on each others' activities and achievements with likes and comments. (Teams competitions — office versus office… or sales vs admin vs mechanics… or nurses vs doctors vs front office? — are easy too, if that's exciting for your group.)
4) The Bling! People like awards. So to commemorate your group's virtual tour of Paris, each staffer gets a personalized digital bib and, on finishing, a digital completion award. Both images are optimized for sharing on social media to celebrate each staffer's emerging identity as an active exerciser. And your group's logo on the images reminds everyone that your office supports staff health.
What's in it for HR? Your designated wellness staffer has probably already organized a step challenge once, right? So she or he knows what a hassle that can be for everyone — logging miles, updating spreadsheets, e-mailing out progress reports. Racery automates ALL of that work and provides so many more features. And, unlike other software solutions that require participants to buy specific devices, Racery can be used by anyone with an e-mail address. Individuals sign up with just a couple of clicks.
This Paris challenge can be up and "running" in just one business day. (If your team is interested in other locations or distances, we can create custom routes too.)
What are you waiting for? Paris is beautiful this time of year! Send us a quick note to get started.
Courtesy of Google, some street views of Racery's virtual wellness tour of Paris.
BONUS: click below for some of the thousands of possible views ahead as you log miles.