I'm excited to share a new virtual race that we're launching soon for Habitat for Humanity of Orange County.
Seven-person teams representing student groups at the University of North Carolina — clubs, sororities, teams, squads, fraternities, faith-based groups, classes, hallmates — will log miles to race on a 1190-mile virtual route around North Carolina.
The Heels for Homes virtual race isn't just about miles, though. Individual students and their teams will also be harnessing UNC's legendary competitive spirit to rack up donations and volunteer hours for Habitat.
Racers can reach out to their personal networks via social media and email to raise money for Habitat for Humanity. Through a simple online donation form, donors can back a single student, a team, or make a donation that's split among all registered runners. The financial goal for the Heels for Homes virtual race is $50,000. All donations, less credit card fees, go to Habitat.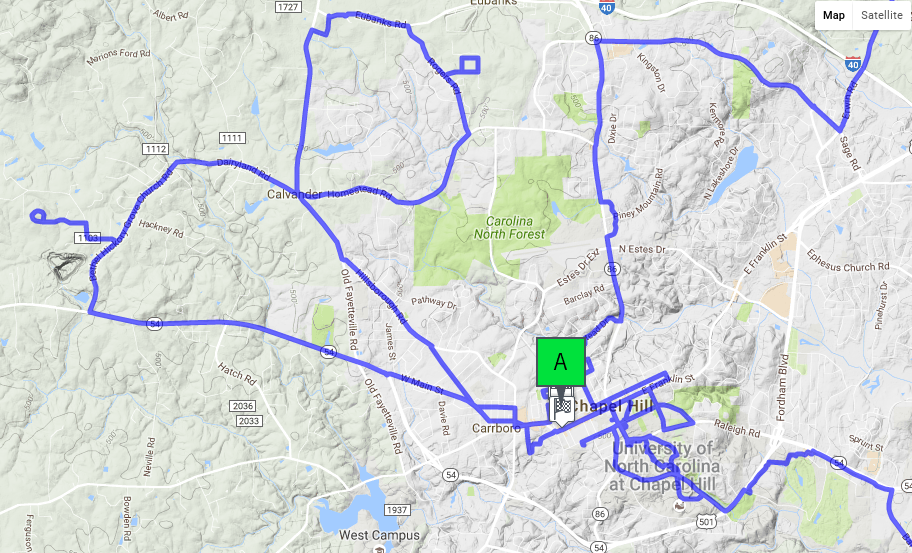 The virtual race will start and end in Chapel Hill's Northside neighborhood, where Habitat volunteers and homesteaders will be building homes in the coming year. On the way out of town, the race route passes new home sites and many UNC student organizations.
The footrace starts September 29 and ends October 29. Teams will pass iconic Tar Heel locations like Asheville's Biltmore Estate, the Blue Ridge Parkway, the Greensboro Woolsworths where sit-ins helped ignite the civil rights movement, and the dunes where the Wright Brothers first soared.
There are no Wartortles, Caterpies or Charmeleons hidden on this virtual route, but there will be plenty of cyber sizzle: any racer entering miles online will get an immediate 360-degree view of her/his team's location on the virtual NC route.
Tracking volunteer hours is a new Racery feature. In an early conversation about the race, Jennifer Player, Director of Development and Administration for Orange County Habitat, said that Habitat loves the energy that UNC students bring to Habitat volunteering.
So, having seen how powerfully leaderboards motivate running/walking and fundraising, the Racery team decided to build new functionality to support the logging and ranking of team and individual volunteer hours.
The virtual race is part of a Habitat/UNC collaboration called "Heels for Homes," which seeks to unite the campus around a single mission of building ten homes in Northside in the coming year.
Alex Mitchell, student co-chair of UNC's Habitat for Humanity club, is spearheading the race on campus. He told us he's excited that the race allows student groups — who often raise money for Habitat through activities ranging from chili cook offs to bake sales to pancake dinners to 5k's — to share their enthusiasm through a single activity.
In addition, the race will bring together student groups from across campus who don't normally interact on a daily basis. This race gets everyone on the same page, allowing racers to observe and cheer on each other's progress in a real-time feed of all activities.
The Heels for Homes race offers students leadership opportunities, too. Each team has a captain who is responsible for motivating her/his team to raise money, rack up miles and contribute volunteer hours.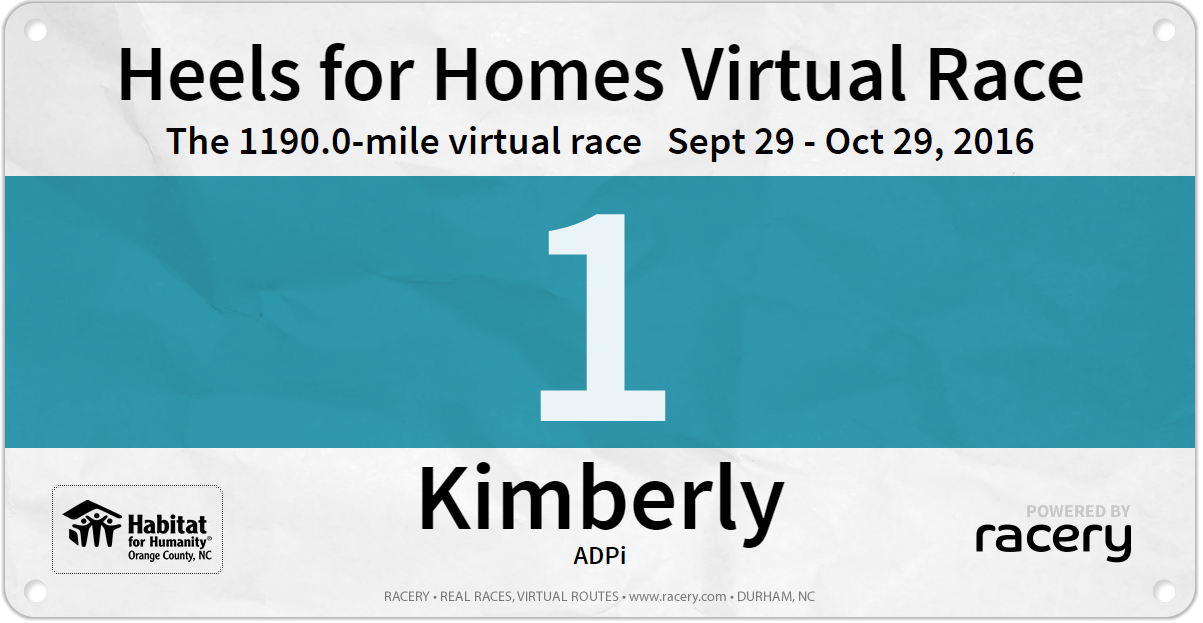 Leaderboards for miles, fundraising and volunteer hours will display the relative rankings of both teams and individuals. Even after teams have completed the full 1,190 mile route, racers can continue to compete individually until 6pm on October 29th. The volunteer hours and donations competition, both team and individual, will also continue until that time.
The experience of virtual racing for a good cause creates a cyber-charged engine for fundraising and camaraderie. In June, 800 members of the Hogwarts Running Club raced 10,000 miles around the US and raised $56k for The Trevor Project in just two weeks, with a massive crescendo of fund raising on the race's final day.
You can see more details about the Heels for Homes virtual race here.
Racery, a virtual racing company based in Durham, NC, is providing the technology behind the race.