We all know that exercise has many benefits for mind and body. Running or walking regularly:
Makes you feel good

Regulates your weight

Increases confidence
So if exercising is so good, why is it so darn hard?
Sometimes you struggle to get out of bed to exercise when it's dark, cold, and wet. Maybe you don't want to commit $100/month on a gym membership. Maybe you just want to avoid being judged by a bunch of buff people.
Racery helps you overcome these barriers.
Think of Racery as an exercise diary, supportive community and virtual vacation rolled into one! Since 2013, thousands of people have used Racery' to get out the front door to exercise more often.
"You make running fun. Thanks!" — Susan L.
"Racery definitely adds a competitive edge and forces you to run a little further and a little more consistent." — Chris F.
"I appreciate the emails because twice a day I'm reminded that I should probably go for a run." — Steph B.
"It helps me run even a mile if I don't have time for a longer run." — Susan B.
Research shows that virtual challenges like Racery's can increase a person's workouts by 90%.
Racery looks simple on the surface. With every exercise mile you log in January, your personal avatar will advance on a virtual route in London, traveling from gorgeous Hampton Court Palace to bustling Piccadilly Circus.
You'll be joined by people with diverse exercise experience, ranging from a retired nurse walking a half mile each day to a new mom training for her first 10k. What matters is how many miles YOU want to cover each day, not how fast you go in an hour.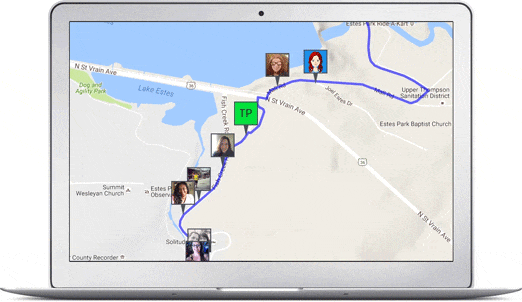 The London virtual challenge is a safe space where your exercise is seen and appreciated, and where you can cheer on other people's exercise.
The community is supportive, pro-health and pro-happiness. Unlike most Facebook friends, who don't necessarily want to hear about your everyday workouts, everyone in this challenge is excited to be on a fitness journey with you.
Participating is super easy, whether you're using a computer or your mobile phone. In addition to the map and feed of everyone's exercise, Racery gives you other motivational help:
Each morning, you'll get optional motivational e-mails about everyone's progress.

In the afternoon, we'll remind you to log exercise miles!
By manually logging miles your commitment to exercise gets reinforced. To help deepen your exercise habit, we also ask you to log only miles that you've walked or run intentionally beyond your daily normal activities, not every step you take throughout the day (those collected by step trackers).

What are you waiting for? Join our January event today!

* ?php comments_template( '', true ); ?*/ >