You know that running makes you feel great, but you also know that sometimes the few steps out your front door to run are harder than the last mile of the longest race.
To help you get out the door every day, you've probably already joined a running group. The group lets you socialize with like-minded runners, and helps you keep running even when it's cold, wet and dark.
Unfortunately, most running groups don't meet every day. No matter how hard you try, some days you can't scrounge up anyone for the long run you need to train for that half or full marathon.
Racery's month-long virtual ultras are the perfect way to get motivation from like-minded runners every day.
As you log your daily miles, your avatar advances on a virtual map jumping over other runners. In January, we're doing a 125-mile virtual ultra around Kangaroo Island in Australia, we've picked especially for its warm breezes and beautiful views. 🙂
Here's what some past participants say:
"Seeing my progress along the virtual races keeps me motivated to get my mileage in, especially when I have friends from across the country that I am competing against!" — Keri Walls, Louisville, KY
"I look at where the next person is, and think 'if I run a little more, I can catch this person!" — Ed McDaniel, Linville, NC
Within a few days, you'll notice that you're consistently trading places with the same people. You'll check their bios and notice that one runner, Joe,is training for his half marathon PR, and the other, Julie, is training for her first marathon. Perhaps they even live in your area.
Yes, you could log your workouts in other places — Facebook, Strava, a notebook — and sometimes even get feedback or encouragement. But friends on Facebook complain if you post more than once a week about running, and Strava is focused on miles per hour and KOMs, too intense to motivate LSD days. And your notebook doesn't cheer!
Now when you wake up in the morning and are tempted to stay in bed, Racery makes you think — Joe's out there doing 3 miles right now and Julie will probably get 7 done later today. More importantly, you know that if you don't get up NOW, you're gonna have to run 4 miles tonight or double down tomorrow to keep up!
With Racery you don't feel guilty, you feel challenged. You feel alive. Here's more racer reactions to Racery:
"Daily emails from Racery are the perfect nudge to keep me out there running every day! I love to see my progress on the map and the support from fellow racers from all over!" — Lisl Coady, Anchorage, AK
"Nothing like a little competition to motivate my training." — Anjanette Riley, Raleigh, NC.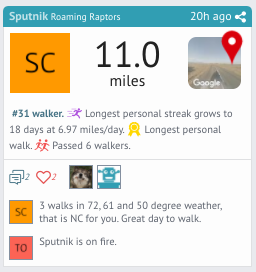 Some warnings. We're not Strava — Racery relies on the honor system. If you want to cheat yourself, go ahead. We also don't auto sync with Fitbit, Garmin, etc. We're a community and we hope you'll like or comment on other people's mileage logs as frequently (or more!) as they do on yours.

As a bonus, when you log mileage online, you'll see a street view like this or this. You'll also get instant feedback from Racery about how your latest run compares with other runs by you and others.

Racery is run by athletes and not backed by venture capitalists. Fees help pay for our support and development costs. At 50 cents a day, this is likely the best money you can spend to keep you on plan and running through January's misery. We'll help you get the most out of that $150 race you're training for this spring.

And if you're not thrilled by Racery, we'll refund your money.

[Sign up for the Kangaroo Island Virtual Ultra]

* ?php comments_template( '', true ); ?*/ >