900 runners and their supporters assembled at noon today in a Harry Potter Facebook group called "The HRC Great Hall" for the start of the world's biggest virtual race — The HRC Quidditch Cup.
The two-week 3,342.3 mile virtual challenge brings together 12 teams of 75 people, all members of the Hogwarts Running Club (HRC).
The HRC teams have been training and strategizing for weeks to prepare for the sold-out event. Individual racers will run and walk in their own neighborhoods, then log mileage in the virtual event. Within 20 minutes of the start of the race today, 135 racers had logged miles.
The 12 teams — three per Hogwarts house — have names based on JK Rowling's beloved Harry Potter series — for example, Luna's Hare Raisers, GriffinROAR, Dora's Aurors, and For Salazars Sake.
As in a "normal" relay race, each time team members log miles, the corresponding team avatar will move in real-time on the race's customized parchment-shaded online map. The individual racer's position will simultaneously update on the leaderboard of 900 racers. Racers will cheer and jeer in a real-time stream of mileage logs that also display Google Street Views of each team's location on the virtual route, which stretches from Toronto, Canada to Kissimmee, Florida.
Based on the results of a previous two week Racery event organized by the HRC, some spectators pick one of Slytherin's three cut-thro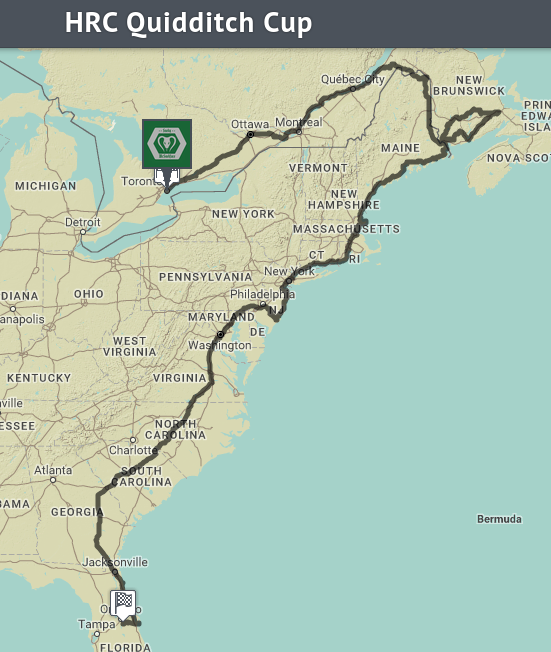 at teams as a likely winner, expected to cross the finish line in 8 or 9 days.
The HRC, a Facebook-based group and 501c3 founded in 2014 by Harry Potter fanatics Dawn and Brian Biggs, has nearly 50,000 members in 60 countries around the world. In addition to the Great Hall, HRC members congregate in separate Facebook groups dedicated to their respective houses. Members participate in a series of athletic and charitable challenges and have raised over $1.4 million for over 30 charities.
United by their enthusiasm for Harry Potter, members enjoy the HRC's magical combination of exercise, community and altruism.
"HRC allows me to participate in fun events all the way from here in England," writes Kim Moody, who is a member of the Scamandar's Beasts team from North Yorkshire, England. "I get to maintain a healthy lifestyle whilst knowing I'm doing so much good."
"As a parent and physician, I recommend HRC to everyone. 'Are you a Potterhead?' is one of the first things I ask anyone I'm coaching on their journey," says Gryffindor Carolynn Warner, who is logging her miles from Savannah Georgia.
Hufflepuff Lauren Bonifacino is new to HRC, but already all-in. "It's a reason to move," she writes. "It's a support group. It's a whole lot of fun bundled up into a nice, shiny fandom package of healthy living. And most of all, it's exactly what I needed!"
The Quidditch race provides a virtual realm where HRC values can be celebrated.
"I'm not a huge runner but I'm trying to get back in shape after two kids," writes Grand Rapids, MI resident Becca Coleman. "I know it's going to be a challenge but I'm determined to stick with it and help my team win! Being the Huffle-est of puffs is a huge part of my life and something that has brought me new friendships from every part of the world."
Elisabeth Benson joined the HRC last July. "I had just moved back to the USA, to a new city where I didn't really know anyone. I was lonely and unmotivated to run. [In HRC] I found amazing friends, a supportive community and some serious motivation." A resident of Issaqah, WA, the For Salazars Sake team member is ready to rumble. "I am planning on waking up at 4 am to get in a prework run, a quick lunch run and then get out again after work. Last year [in the two week virtual race] I did 60 miles, going to smash that this year. All my running gear is clean and ready to go!"
Kimba McIntosh is serving as a prefect for one of Ravenclaw's three teams in the race. She is shy by nature and HRC has helped change that over the last 18 months, she says. "I've found people I relate to, and am comfortable with. A virtual community gives a bit of a safety net; you engage in it at your own pace and it's okay to pull back if you need to. I quickly became invested in the people of HRC after I joined; the shared struggles, the outpouring of support, and the love of Potter and it's values. Before I knew it, I was reaching out, cheering on, making my voice heard. When I was asked to be a prefect, I didn't hesitate to say yes. This would've been unimaginable a year and a half ago."
"For the race, we asked our runners to estimate what they thought they could do," says McIntosh, who lives in lives in Clinton Township, MI. "I felt my goal was ambitious, but I'm taking these two weeks to show my housemates what they mean to me, and not just achieve that goal, but blow it away. I can't let them down when they've helped to lift me up."
The HRC Quidditch Cup celebrates the tenth annual US Quidditch Cup, held this year in Kissimmee, Florida April 8-9.
Unlike a single-run event like Nike's 10k virtual race, the 5,500 mile tweet-powered virtual race hosted by Hangzhou China's tourism board, Strava's leaderboards for best times on specific physical routes, or single-day events like Wings for Life's one-day virtual event, the HRC Quidditch Cup race comprises two full weeks of aggregated competitive running. By the time the checkered cape flaps for the final team, 40,107.6 miles will have been logged by HRC members.
Powered by Racery virtual challenge software, the HRC Quidditch Cup race includes some new features that were custom-designed for the Hogwarts group. As teams pass secret points along the route, surprise digital postcards will be triggered to each team member. A "Dobbybot" will comment on racers' special achievements — for example, longest run. Finally, a pacer bot named Rogue Bludger will also compete, copying the mileage log of one racer randomly selected each day — whether 0 or 26.2 miles — to overtake runners in the individual leaderboard.
Some participants in an HRC event held last June with Racery racked up more than 50 miles a day. (In its early hours, the activity of that event's 800 racers was so intense it took down Racery's servers. Racery's servers have since been wizard-proofed.) That event, which was organized to support the Trevor Project in wake the Orlando shootings, raised over $62,500, much of it in a competitive cresendo in the challenge's final days.
Racers log miles using e-mail, mobile phones, a webpage, or Apple and Android apps. In addition to serving the HRC, Racery provides virtual races for organizations including Fleet Feet Sports, the Duke School of Nursing, and Habitat for Humanity.
Some spectators predict that teams from Hufflepuff, better known for geniality than competitiveness, show up lower on the leaderboard. Some Hufflepuffs disagree. "I'm planning on doing my part to help prove them all wrong," writes Hufflepuff Bonifacino. "We're TOUGH cookies and we have as much heart and spirit as anyone, if not MORE!"
The HRC Quidditch Cup race is another datapoint in the expanding study of how health-oriented communities can play together in augmented reality. "Games are not just a source of entertainment," writes Jane McGonigal, who analyzed the power of game-power and virtual communities in her book Super Better. "They are a model for how to become the best version of ourselves."
[Update 4/24 — as of today, 8 of 12 teams have crossed the finish line. To the surprise of many, Ravenclaw's Rowena's Soaring Eagles finished first.]