Two virtual races this fall demonstrated a cool new twist on Racery's virtual racing and fundraising software.
In both cases, a solo runner set out to conquer a high-mileage route, challenging individuals or teams do the same distance on a virtual version of the same route. For extra fun, slow pokes (like me) got a longer period of time to cover the entire distance. Each race served as a focal point for a charity's fundraising and publicity campaigns.
500 miles in 7 days
In October, Amos Desjardins set out to cover 500 miles in seven days to raise awareness for food insecurity in Virginia. He challenged teams of six to try to cover the same distance in three weeks. Desjardins picked the 500 mile distance because that's roughly 1,000,000 steps, which is the number of Virginians estimated to suffer from food insecurity.
Desjardins used his virtual race both for fundraising and publicity for a charity, the Federation of Virginia Food Banks. Not content just to run outrageous mileage, Desjardins also spent time evangelizing, coordinating his water breaks every ten miles or so to meet with running groups, schools, food bank volunteers and scout troops to talk about food insecurity.
Racery built the virtual race route from a GPX file Desjardins created.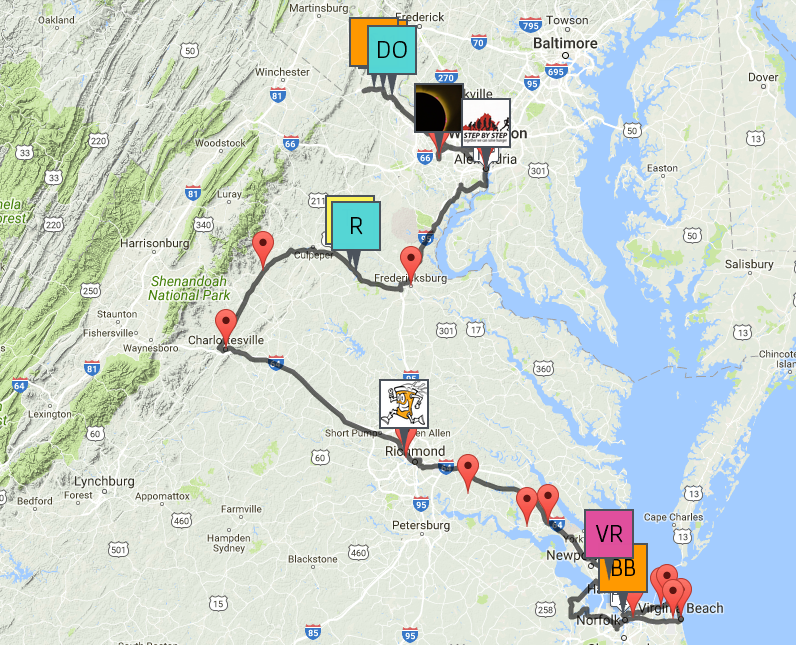 The 500 mile custom route was designed to hit FVFB's seven districts. A combination of bad weather and a heavy workload hobbled Desjardins, but he still finished the phenomenal 500 mile route in three weeks. Which meant he STILL managed to beat most teams who were competing with him.
75 miles in two days
Meanwhile on Long Island, Jay Asparro used a custom race on virtual route to raise money and awareness for another charity, covering 75 miles in two days for Alzheimer's research and care to honor of his grandmother. Asparro's first day traversed Long Island from south the north shore, the second day was the New York Marathon route.
Asparro's race raised money for the Long Island Alzheimer's Foundation. Teams of up to 4 individuals, runners and walkers had a month try to complete his mileage.
Both Asparro and Desjardins say that their communities loved the idea of trying to keep pace and enjoyed battling it out with a more experienced runner. Both say they'll be back for more next year.
Two events sponsored by the Powered to Move charity in 2015 and 2017 offered a precursor of this kind of application Racery. Powered to Move helps athletes of all abilities achieve excellence. In its two 5605.8 mile virtual races, a single team of racers (we call this a uniteam) added their mileage up to cover the distance covered by wheelchair athlete Mike King in the summer of 1985. Here's a write up of P2M's first virtual race and fundraising event in 2015 and here's a link to their second fund raising virtual race.