What's a Black History Month virtual race?
Commemorate Black History Month with a virtual race from Selma to Atlanta in February, 2024!
Boost camaraderie as staff discover untold stories, celebrate trailblazers, and support the dreams that shape our future.
Honor the women and men laboring to make America live up to its promise.
Journey virtually on a route visiting historic landmarks marked by pin drops and educational emails.
Log inclusive activities like yoga, wheel chairing, swimming, running and volunteering, which are automatically converted to miles on the virtual route.
Advantages of a Racery virtual event
For sponsors, a Racery virtual challenge is:
Risk free: No down payment or set-up fee required. Free test race included.
Turnkey: A pre-built route with historic content makes it easy to launch!
Brand-enhancing: Add your firm's branding to race bling and communications.
Robust: We've powered races with 10,000 real-time competitors!
Fully-supported: our expert team, based on three continents, has supported thousands of races.
Customizable: If your organization has special needs, we'll make them happen.
Cheaper and longer: Racery's events are considerably cheaper and longer lasting than other Black History Month virtual events.
Why rely on Racery?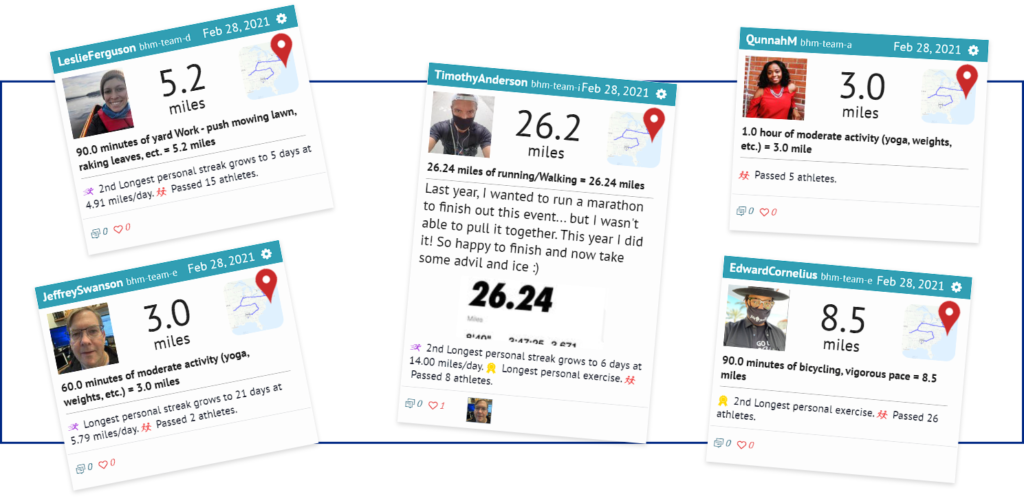 What's next?
Write team@racery.com for information about a free trial race!