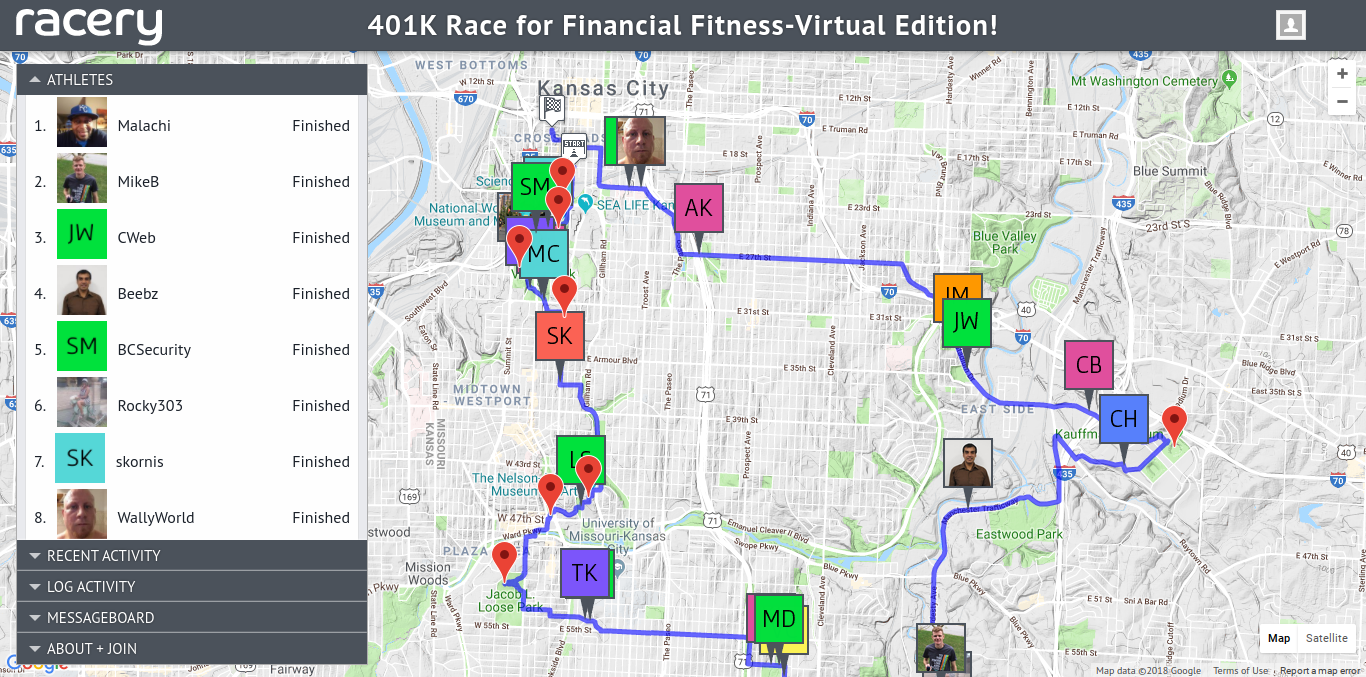 What's the biggest reason to join a virtual race?
Racers say… MOTIVATION!
We recently surveyed participants in a virtual race for nearly 350 employees of more than a dozen companies in the Greater Kansas City area.
Asked how the 17-day race had impacted their exercise, almost everyone said the race had increased their motivation. Other improvements were significant too. Racers reported the following boosts:
89% motivation
66% quantity
60% sharing
56% enjoyment
31% intensity
Many respondents highlighted the race's communal spirit, saying the race boosted their sense of connection both with racers at their own company and other local athletes.
While many aspiring athletes and first-time exercisers are intimidated by the idea of a physical race, virtual races allow people at all fitness levels to get motivated and participate in a communal fitness event. While two participants logged more than 200 miles in the Kansas City race, others logged just one loop — 25 miles. Regardless of distance, everyone's miles were honored.
"What I loved about the virtual race is that I am a 61-year-old walker…not a runner…but in the virtual race that doesn't matter. I felt like I belonged just as much as those who sprinted through it," said racer Vicki Smith.
Smith works at Bukaty Companies, a financial advisory company that fielded 28 participants in the race.
"I've been recovering from rotator cuff surgery and the race was enjoyable and motivating, something I could easily do and gave me a sense of belonging, as well as providing exercise I especially need at this time," said Smith.
Benefiting Junior Achievement of Greater Kansas City, the 401K Race for Financial Fitness-Virtual Edition was designed to raise funds for Junior Achievement's financial education programs, foster fitness and fun, and to raise awareness around the importance of financial health and wellness.
The 25-mile race route was customized by JAGKC to hit numerous areas museums and parks. Ambitious racers could loop the course — in all, over 11,000 miles were racked up.
Employees from companies like Commerce Bank, UMB, Google, PWC, BCBS, and KPMG joined the virtual race. Each racer got a spot on the individual leaderboard, and all staff miles also rolled up into each company's total, allowing companies to compare their progress with each other. 56% of survey respondents said the race made them feel more connected with colleagues.
In all, the race created more than 7,000 fitness engagements, a tally that includes racer comments, mileage logs and email opens.
The last email every racer received contained a digital finish placard. "I loved the little printable badge I got at the end," said Smith. "It's attached to the wall in my cubicle…even further motivation!"