For charities seeking to stage a fundraising event with maximum results and minimal investment of time and money, Racery's custom virtual races are a powerful tool.
Racery provides an interactive, virtual reality platform that inspires P2P fundraising, boosts public awareness, creates countless pieces of shareable social media content, and involves stakeholders across demographics — all with none of the costs and hassles of a physical event.
(Here's one example of how one charity used the power of Racery's leaderboards and storytelling tools to garner the power of their people to raise 57k!)
Best of all, 100% of all donations go directly to the charity!
Why fundraise using Racery's virtual races?
use Racery's turnkey race, social media schedule and content templates to avoid the hundreds of staff hours, headaches, risks and upfront costs entailed by a conventional charity event

create a unique opportunity for a charity to engage with stakeholders, creating dozens of sponsorship opportunities.

share your charity's story using Racery's digital tools including custom maps, emails, digital postcards and MORE. Check out how one of our charity partners,

Powered to Move

,

amplified their story!

drive new peer-to-peer fundraising by helping individual athletes invite friends, family, and colleagues using Racery's "back a racer" functionality

trigger a steady flow of content-rich nuggets that race participants and donors can share on social media

engage with an inclusive participant pool versus conventional races:

lower registration fees mean that athletes from any income level can race

all ages and skill levels can participate, since miles are earned by walking or running (additional modes possible too like cycling, wheelchairing, swimming and more)

no special apps, passwords, or gadgets required
How:
simply by logging miles on the event page via web,

Android

or

iPhone

app, racers log mileage that translates into progress on the virtual route

racers can solicit donations on both a team page and their own personal donation pages

racers can cheer each other's progress with comments and likes

racers have avatars and bios to personalize their experience and tell people why they're supporting!

the event can be customized with Pindrops on the map and distance triggered emails that teach racers and spectators about the cause. when each racer passes a specific location, the racer can receives an e-mail with details about something specific to the cause. For example, Mali Health used Pindrops AND distance triggered emails on their route through Mali, to teach participants and stakeholders about the mothers their organization helps to support!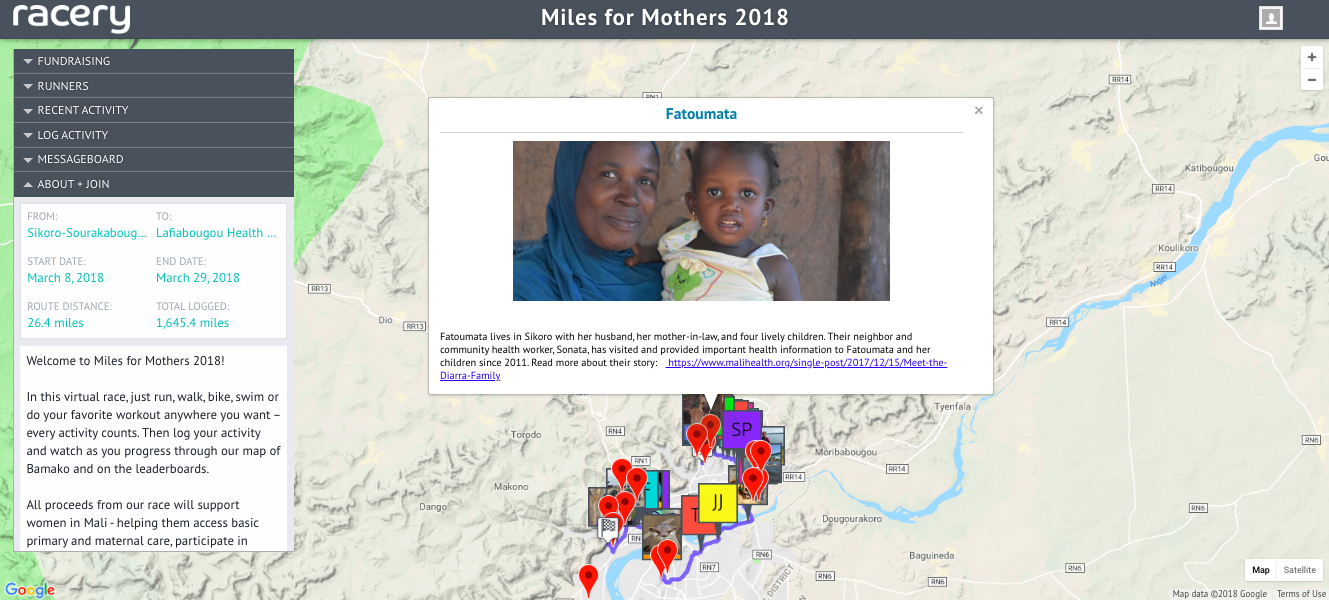 Racery provides:
a completely customized experience based on the goals of your charity

an arsenal of Sponsorship opportunities for stakeholders looking to increase their visibility

social media and e-mail marketing content strategy that the charity can leverage to recruit racers and help them, in turn, enlist donors

Google Street Views and virtual location-triggered emails to racers based on a custom route that helps bring your story to life

excitement-stoking leaderboards (for racers and, potentially, teams) for mileage and fundraising

optional teams and

groups functionality

to further boost competition and engagement

a digital swag bag including a race announcement placard, bib, postcards and completion award — all optimized for social media sharing
See what some of our clients have to say about Racery Custom Virtual Races!
[Want to stage your own fundraising virtual race event? Tap into our expertise by submitting a custom race request.]